Most of us associate the Caribbean with a laid-back lifestyle, working on Island Time and sipping rum on the tranquil, palm-fringed shores. However, for those that seek a challenge without compromising those spectacular ocean vistas, our luxury resorts offer some of the most beautiful, yet demanding, golf courses in the Caribbean. Here, you can find our favourite courses that make the cut.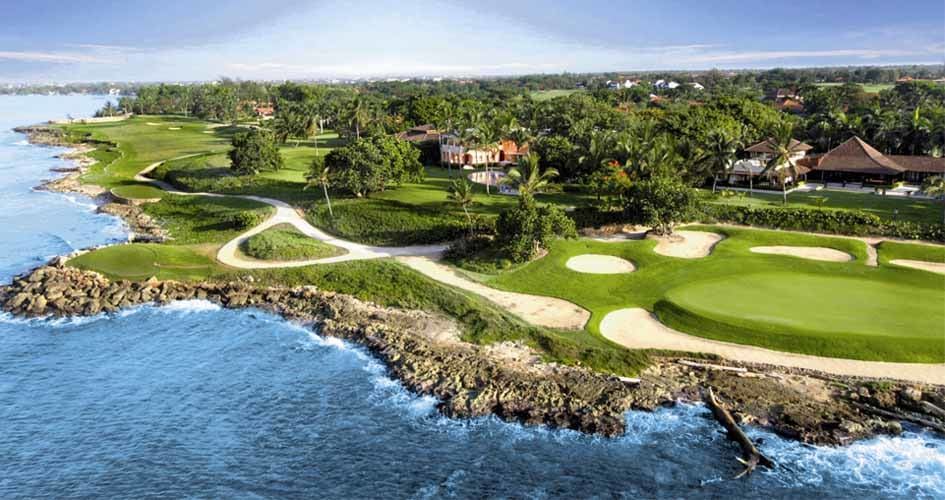 Teeth of the Dog Golf Course, Dominican Republic
One of three spectacular courses at Casa de Campo designed by legendary golf course architect Pete Dye, Teeth of the Dog has been consistently ranked as one of the best course in the Caribbean by the World Travel Awards and it's not hard to see why. Dye famously said of this par-72, 18-hole course 'I created 11 holes, and God created 7', with 7 holes hugging the rugged coastline, providing players with breath-taking views across the ocean. But be warned - it comes with a bite, as the winding landscape takes you through 7,350 yards of demanding bunkers, a daunting dogleg and a few trade winds thanks to Mother Nature.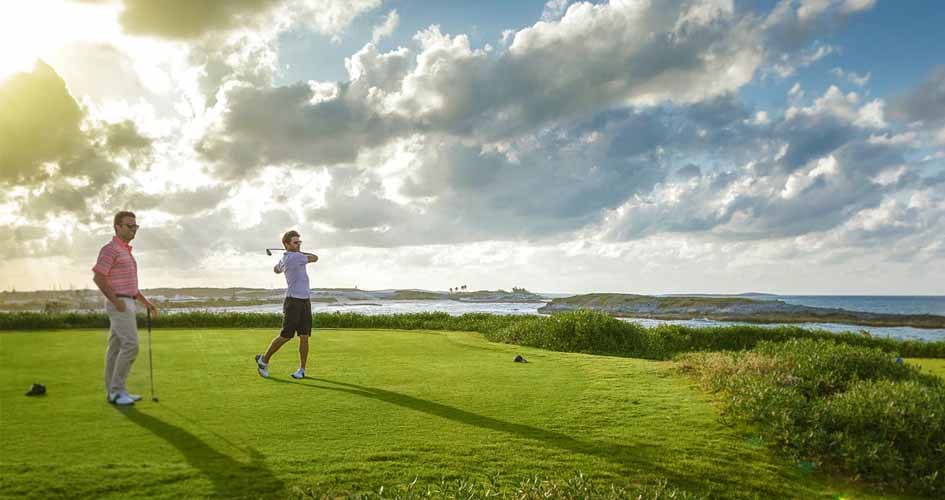 Sandals Emerald Reef Golf Club, Great Exuma
Winner of Caribbean's Best Golf Hotel in the World Golf Awards 2015, Sandals Emerald Reef Golf Club was designed by celebrated pro-golfer Greg Norman, yet just like the Great White Shark, its aggressive style sets you up for a challenge. The 18-holes, with 6 signature holes along the sparkling coastline, are only made tougher by the prevailing trade winds, which may just blow your chances of a decent score if you don't hold your own on the narrow fairways. Those that persist, however, are rewarded with dramatic views of lush, green canopy and sweeping ocean vistas, as well as a refreshing beverage from the clubhouse at the finishing hole. What's more, guests staying in one of Sandals' luxurious butler service suites will receive the unlimited golf package for free, so keep on putting!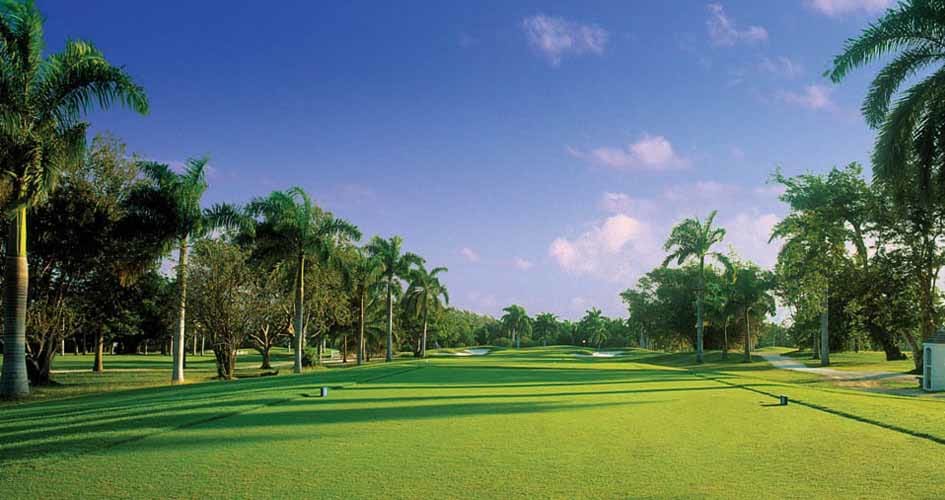 Half Moon Golf Course, Jamaica
Not as tough as some of the other courses in Jamaica, but there's still a few tricks thrown in to keep you on your toes; Half Moon Golf Course features designer Robert Trent Jones Sr's trademark runway tees and tricky figure of eight layout. The 18 holes on this former 17th Century running gut estate are comfortable and pleasant to walk, presenting superb views of the winding hills, and the friendly caddies are knowledgeable, offering helpful information on the yardage. Many PGA professional golf tournaments have been held here, including the European PGA Senior tour and the Jamaica Open, so where better to put your skills to the test?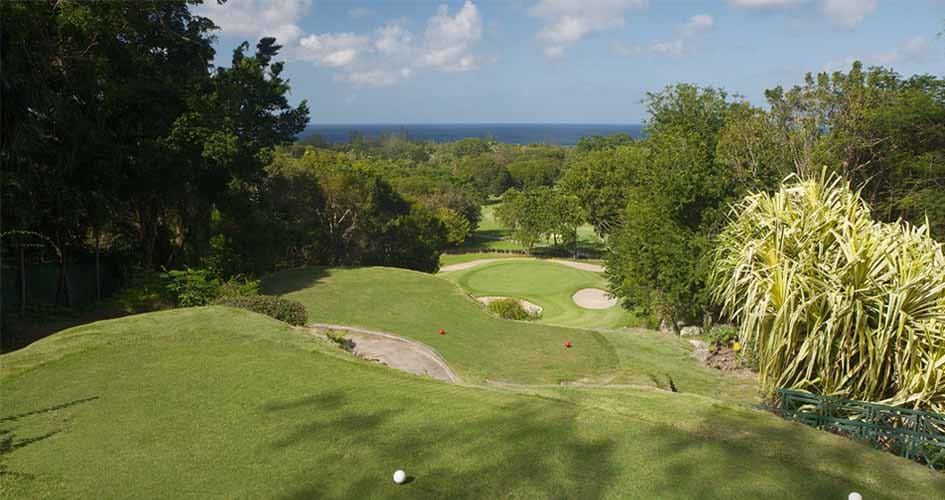 The Old Nine Golf Course, Barbados
Constructed in 1961, and designed by renowned architect Tom Fazio, this intimate yet demanding course winds through the verdant, tree-lined Sandy Lane resort. At 3,345 yards, with 9 holes, par 36, it is small in size compared to other courses you may find in Barbados and other parts of the Caribbean, but the narrow fairways and small greens still give golf enthusiasts a run for their money. The Sandy Lane estate itself is synonymous with prestige and luxury, with a Palladian-style exterior, a Rolls Royce Phantom waiting at the door, and lavish, comfortable rooms and suites– perfect to come back to after a day on the course.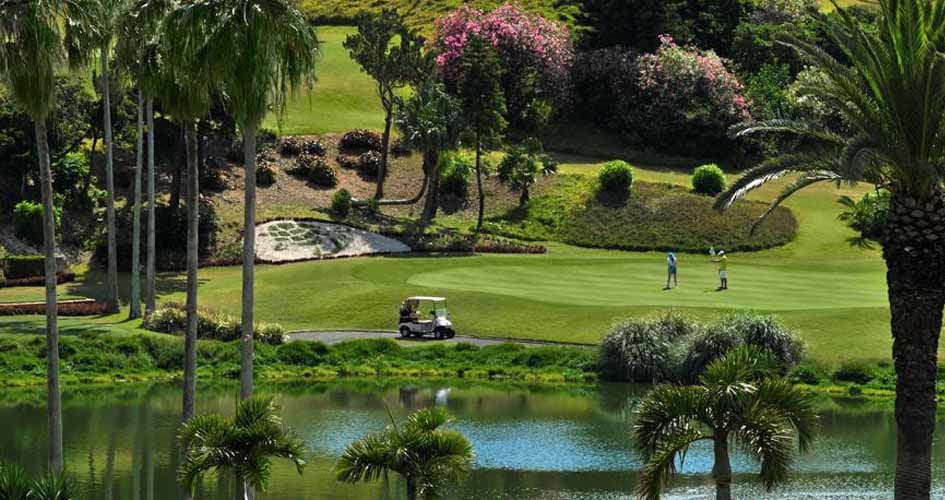 Turtle Hill Golf Club, Bermuda
Ranked as one of the Top 5 par 3 courses in the World by Golf Magazine, Turtle Hill Golf Club in Bermuda is an ideal choice for golfers of all skill levels. Beginners may arrange lessons with the golf professionals, who will take you through the 18 holes, delicately placed within the subtropical surroundings, at your own pace, giving their expert advice and teaching you the perfect swing. If you're feeling confident, brave the strong costal winds, two water hazards and dramatic elevation changes, but be sure to be patient and use your time to admire the spectacular views of the Atlantic Ocean and distant lighthouse.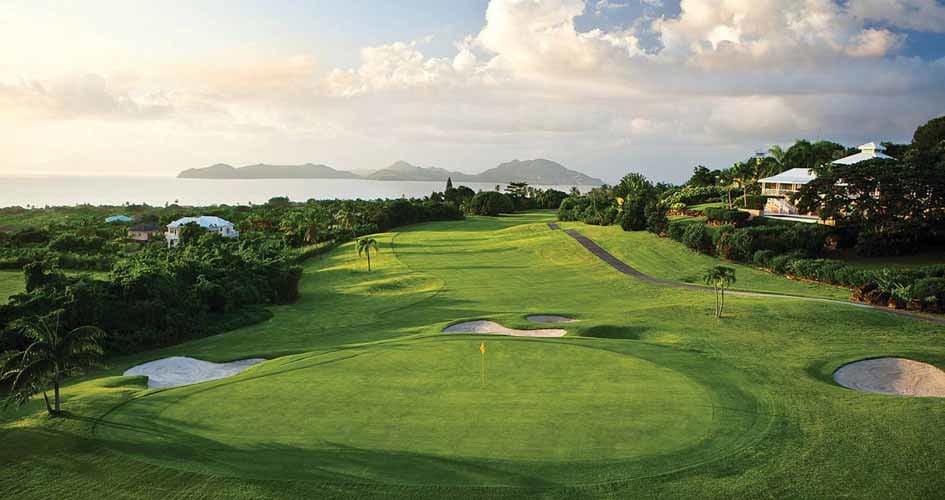 Four Seasons Nevis Golf Course, St Kitts and Nevis
The sleepy island of Nevis was the first in the Caribbean to have a golf course designed and constructed by Robert Trent Jones Jr., and it was done with imagination and creativity, as the course meanders through a range of striking landscapes. The 18 holes begin by climbing up the foothills of the dormant Mount Nevis volcano, before taking you through the thriving rainforest and back down to the edge of Pinney's beach. For the avid golfer, Four Seasons offers a week-long island golf package which includes your luxury accommodation, golf lessons, equipment, practice ranges and unlimited rounds.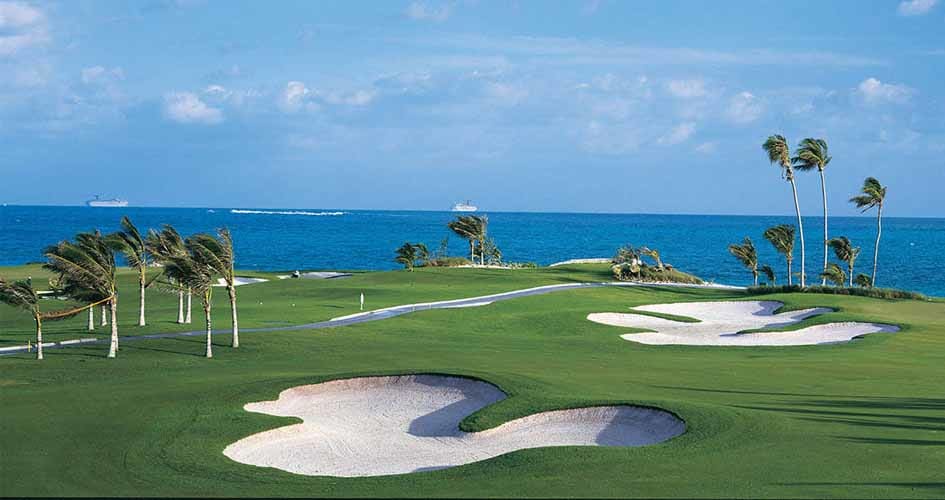 Ocean Club Golf Course, Bahamas
Designed by Tom Weiskopt, competitive player and golf designer famous for his distinctive masterpieces integrated into the natural landscape, Ocean Club Golf Course in the Bahamas is part of the luxury One&Only resort and stretches an impressive 7,100 yards over Paradise Island's peninsula. At par 72, the course offers a practice facility and golf academy where beginners can get into the swing and experienced players can warm-up before taking on the course. But playing in Paradise also means it can be hard not to get distracted by the wondrous views, and the crosswinds will challenge even the most confident of players!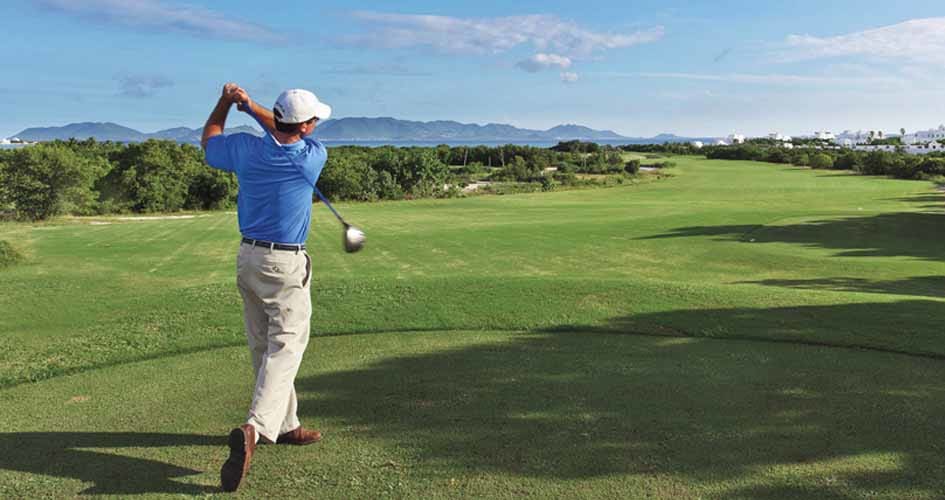 CuisinArt Golf Course, Anguilla
Scattered with tranquil lagoons, seagrape trees, deep bunkers and salt marshes, the CuisinArt Golf Course is Anguilla's first and only golf course. This $50million Greg Norman signature design features 18 holes spanning a magnificent 7,063 yards across the oceanfront, rewarding players with overwhelming views of St. Marteen and the Caribbean Sea. Whilst being constructed in September 2011, there were significant efforts to enhance the islands flourishing natural landscape, including the renewal of the island's landmark Merrywind Salt Pond. On the course, you can also find a free standing Pro golf shop and a welcoming clubhouse, perfect for a post-game snack and refreshing rum punch.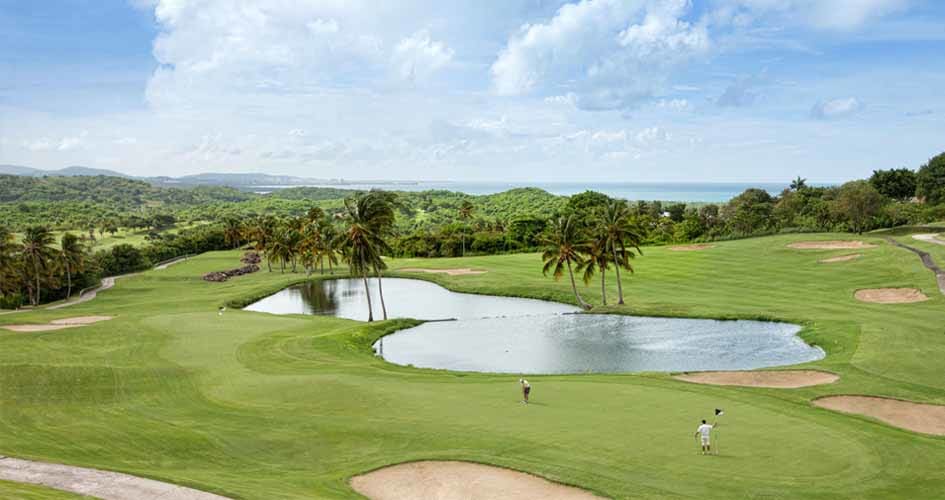 El Conquistador Golf Course, Puerto Rico
Atop a cliff that sits 300 feet above the Atlantic Ocean, the natural shape of this spectacular course means it can be very hilly, so before you start, brush up on hitting side hill, downhill and uphill with one of the on-site PGA instructors. Fortunately, these elevation changes and the naturally lush vegetation and palms means the course is also home to iguanas, mongoose, exotic birds and other wildlife. A scenic waterfall comes into play on your final 18th hole, which blends seamlessly with the jungle backdrop, making it yet another picturesque course designed by Arthur Hills. El Conquistador, A Waldorf Astoria Resort in Puerto Rico is a new destination coming soon to Destinology – please ask our sales team for more details.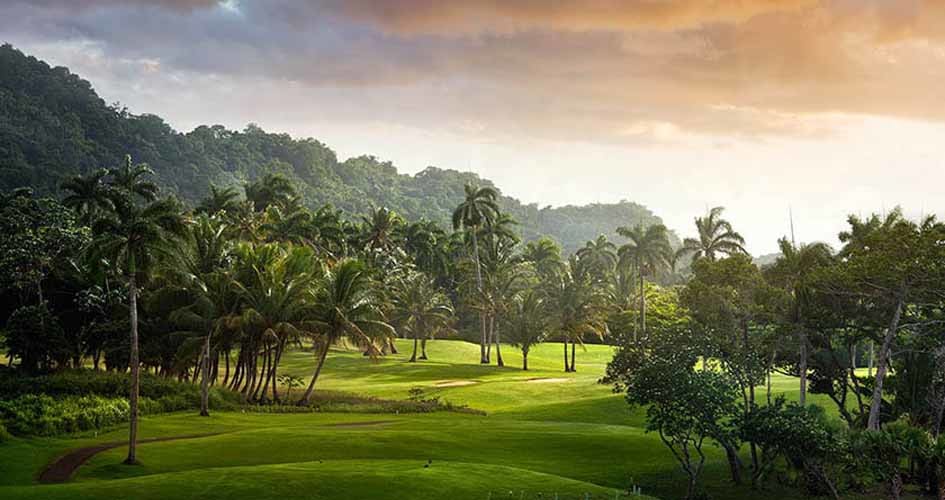 Playa Grande Golf Course, Dominican Republic
Originally designed by world-class golf course architect Robert Trent Jones Sr., but recently renovated by his son Rees Jones, the Playa Grande golf course boasts 10 dramatic, coastline holes with spectacular ocean and humbling mountain views. The enhanced course opened in November 2015, simultaneously with the exotic Amanera hotel, and is designed to challenge golfers at every skill level, with cliff-side fairways and sloping greens. Once you've tackled the 7,085-yard rolling course, the Playa Grande Golf Clubhouse is on hand with delicious grills, refreshing beverages, and the Amanera Spa directly adjacent offering soothing massages.
w